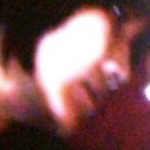 #
"The selected tracks birth years are ranging from 1994 – 2000s – 2023 – future. It is my Engram – from innocent human memory flashes * emotions vibing to quirky nature * posthuman diggings of cyber ponds.
Interweaving several special songs that enlightened my early 'electronic' music listening life since 14 y/o, they are still solidly fresh, forward-thinking, or emotionally articulate for me today."
-Ylateau
Ylateau (aka. Yuän) is the founder and co-curator of ÖÖÖ, born in Yunnan, Based in Berlin. Ylateau's interest and research are rooted in futurism, post-human envisions, sci-fi film, technoscience, tribal culture, trauma psychology, life & death process, the multi-dimension of emotion, consciousness, and spirituality. Her music is an instinctive approach for her to experiment with soundscapes, composing zoomorphic scenarios for inner affections reflecting interactively with a grander background of species' destiny.
#
Track List
Arca – Promise ࿂ 2014
Fera – Carefucker ࿂ 2020
Björk – All is Full of Love ࿂ 1997
Current Bias – Level Steps ࿂ 2023
Usof – Creepy Crawlies ࿂ 2022
Molly – Xestia ࿂ 2022
Air – Run ࿂ 2004
Jay Chou 周杰伦 – 梯田 ࿂ 2003
Bashar Suleiman – 3OMRI ࿂ 2022
Canaan Balsam – Rat in a skull ࿂ 2023
Lily Chou-chou – 爱の実験 ࿂ 2008
Contacto – Losing Hold ࿂ 2021
Odd Nosdam – End Is Important ࿂ 2023
Amnesia Scanner & Freeka Tet – Scorpions, Bats & Spiders ࿂ 2023
nunu – GSR (QUIET MIX) ࿂ 2022
Karl Wille and gone icon – cheers ft gone icon ࿂ 2021
love life all the time – U R Bug E ࿂ 2022
Torus – Venga ࿂ 2017
Mavis Fan 范晓萱 – 最好的爱煞人武器 ࿂ 2001
Salyu – 飽和 ࿂ 2008
Svitlana Nianio – Episode III ࿂ 1994
tumy – Ruins to hide ࿂ 2023
Arca – Mother ࿂ 2013