Ö1 Artist: Edoardo Caimi
Interviewed by Yuän (ÖÖÖ) 
#
ÖÖÖ:
When did you begin your research of 'Future-primitive'? Your hometown is in Lodi (Italy), could you please describe the place where you grew up? What inspires you the most?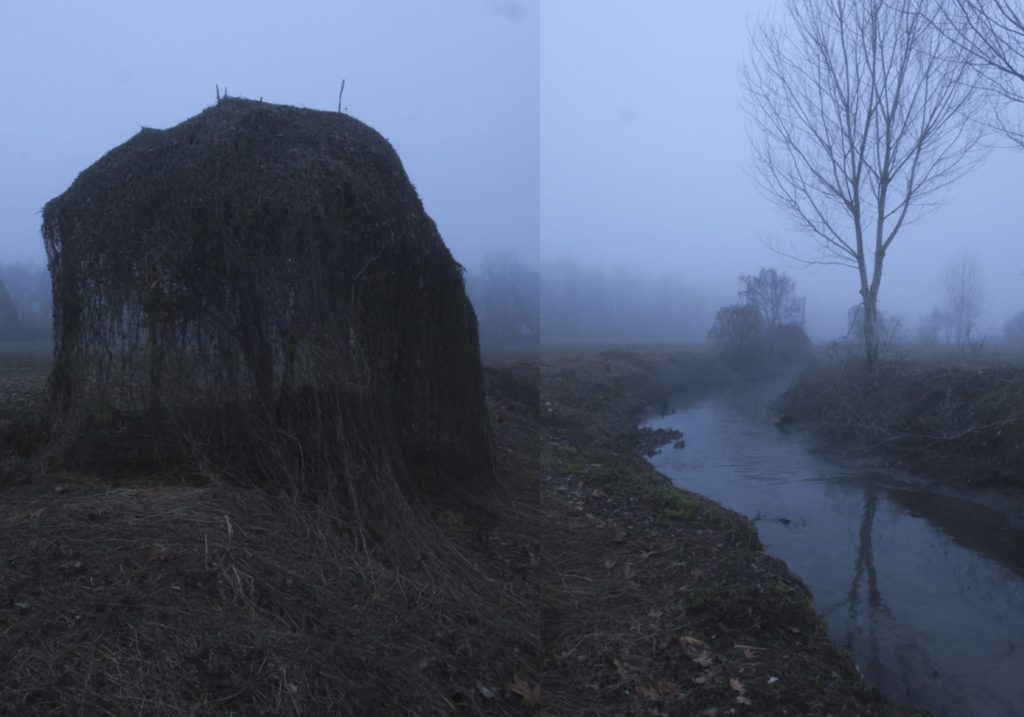 EDO:
Lodi is a small town surrounded by countryside and farming traditions. It is a humid place born from the reclamation of a large swamp, located in the Po Valley: a bubble of smog and mosquitoes in which the wind rarely blows. In the summer it is very hot and in the winter the fog prevents you from seeing a few meters away, creating a ghostly atmosphere. Growing up in these conditions taught me to fall in love with these aspects. The fog rises from the river and fills the landscape, catapulting you into a world that seems parallel to the normal one, a kind of non-world, an upside down. This is perhaps my favourite feature. Just outside the city you can easily find abandoned farmhouses and factories, in which a toxic and post-apocalyptic atmosphere often reigns. I've always been looking for these places, to do graffiti or to go to some illegal party.
#
ÖÖÖ:
Your arts illustrate a world of the industrial and consumerist residues, the abandoned factories and farmhouses left with nature, which seem to be the remainders of a cataclysm and the evidence represents the demise of human technological society: a post-apocalyptic scenario while 'tribal totems' are subtly springing up. In the survivalist and cosmogonic narrative frame, what is the situation of this world you envision?
——If everything has returned to the primitive environment, what kind of future do you think the survivor will develop into? Will they still worship technology? or instead, into any new versions of divinity?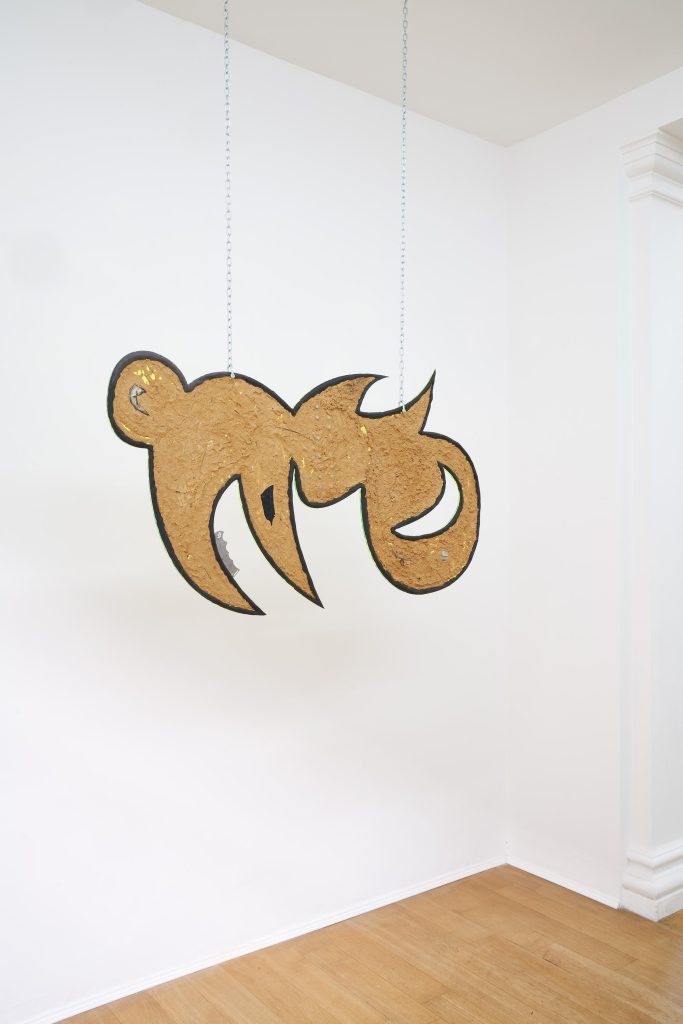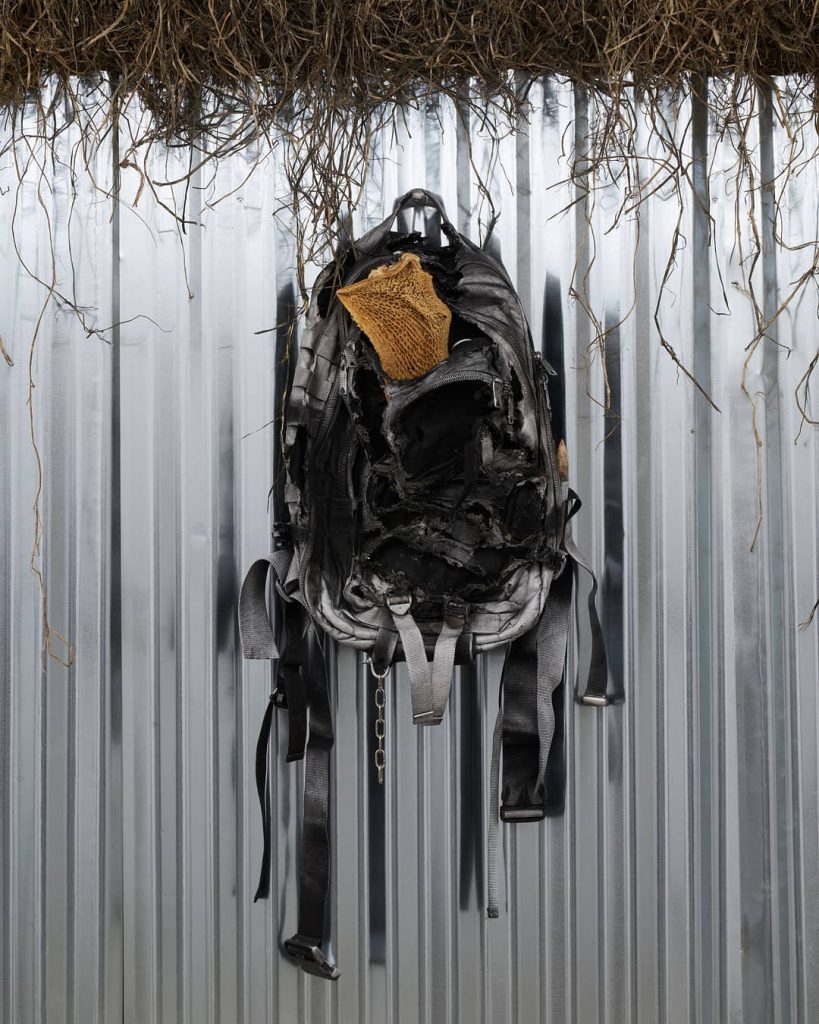 EDO:
In my latest exhibition A Year Without Summer I wanted to open a window onto a world where history is as if restored, or rather, where what has characterized and characterizes our current society, dominated by a technological and anthropocentric imaginary, is hit by a sudden forgetfulness . Objects, technology, industrial residues, the landscape as we are used to seeing it take on the consistences of ghosts, of a faded memory. This is what you call "tribal totem", or primitivist future. The presence of objects, shapes and figures that are no longer mediated by anything, that are detached from a rigid context of interpretation and function. The figure of the survivor helps to deal with what has been lost, with objects that have lost their usual presence, their functions, their "auras" and the links they had with everyday life. The survivor is stripped of the past, if not as a trauma, submerged, precisely "forgetful" and the relationship with the world that inaugurates is the immediate one of forms. Technology as an occult reminder of an arcane, unfathomable past, not divine but forgotten. The fog in which I usually place the works has to do with this, with a loss of contact, with the blurred figures, a landscape that gradually disappears behind you and suddenly appears in front of you.
#
ÖÖÖ:
In your former exhibitions, the introduction narrative your practice as 'focused on the contrast between the modern and the primitive, the technological and the tribal, the consumerist society and nature'. But if we pick through another angle, I think these dualities are seem more than just in contrary or juxtaposition, but they have merged into a witchcraft-like harmony, as if linear time melted, here is a circulation in which the future and the past connected —— The scenario draws as though the coincident point of that cause and effect has met in nature's development.
How do you bridge such a connection in these dualities described above?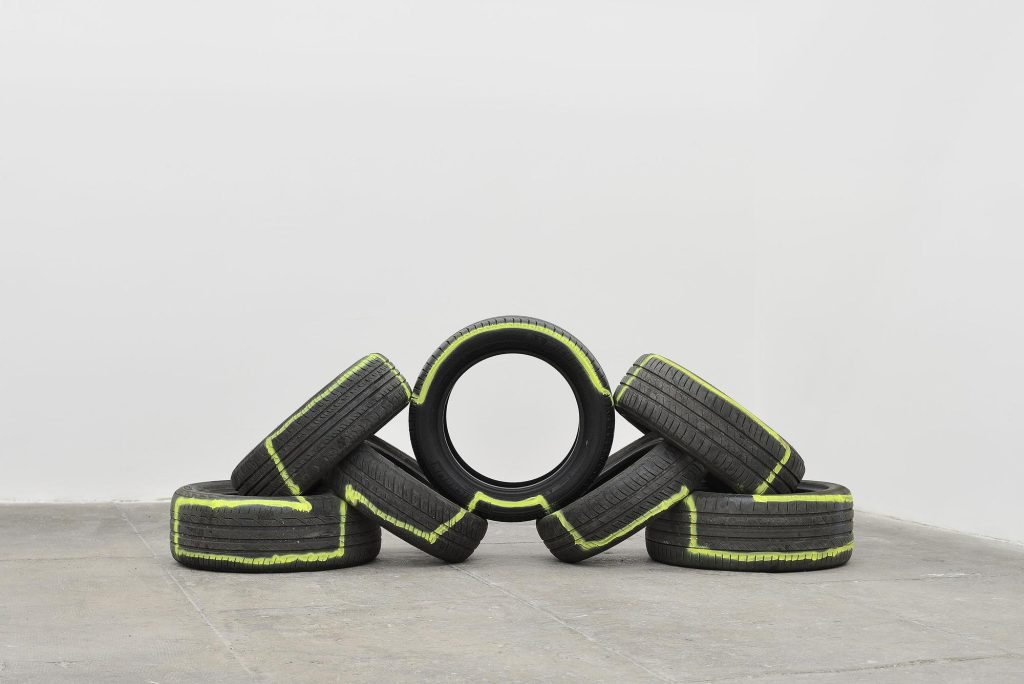 EDO:
Exactly, it is not a question of duality, but precisely of contrasts that disappear if placed in another context. "A Year Without Summer" is precisely an exercise of the scenario, a practice that has to do with the ability to imagine different trajectories and implications, often thought within the framework of the "Worst-case scenario". This is where past and future meet. The title of the exhibition in fact refers to the famous event of 1816, where a small apocalypse was "experienced", where some of the masterpieces of romanticism took place, think of Byron or Shelley, who were also together, in Geneva, with the sky covered with soot, the sun clouded, the crops fading. Something fell there, a myth of the primacy of the human being, of control over oneself and things, fell, a positioning, a centrality was lost. We found ourselves alongside the world, indeed, inside and together with a planet. What would happen now instead? Technology plays the role of the lightning rod, of salvation, of myth, but it is part of the landscape and of the planet, or at least it should be. The tactical use of the scenario allowed me to articulate technology and tribalism, modernity and primitivism, or rather nature and culture, in a landscape in which these coincide, perhaps because it is precisely that human and technical priority they have assumed with respect to the environment. The will is to put technology and natural elements on the same level. The planet will continue to exist even after an eventual extinction of the human species.
#
ÖÖÖ:
"Tire', 'chain', 'graffiti', "straw', 'symbol', elements often appear in your art, how do you assemble them with other elements ?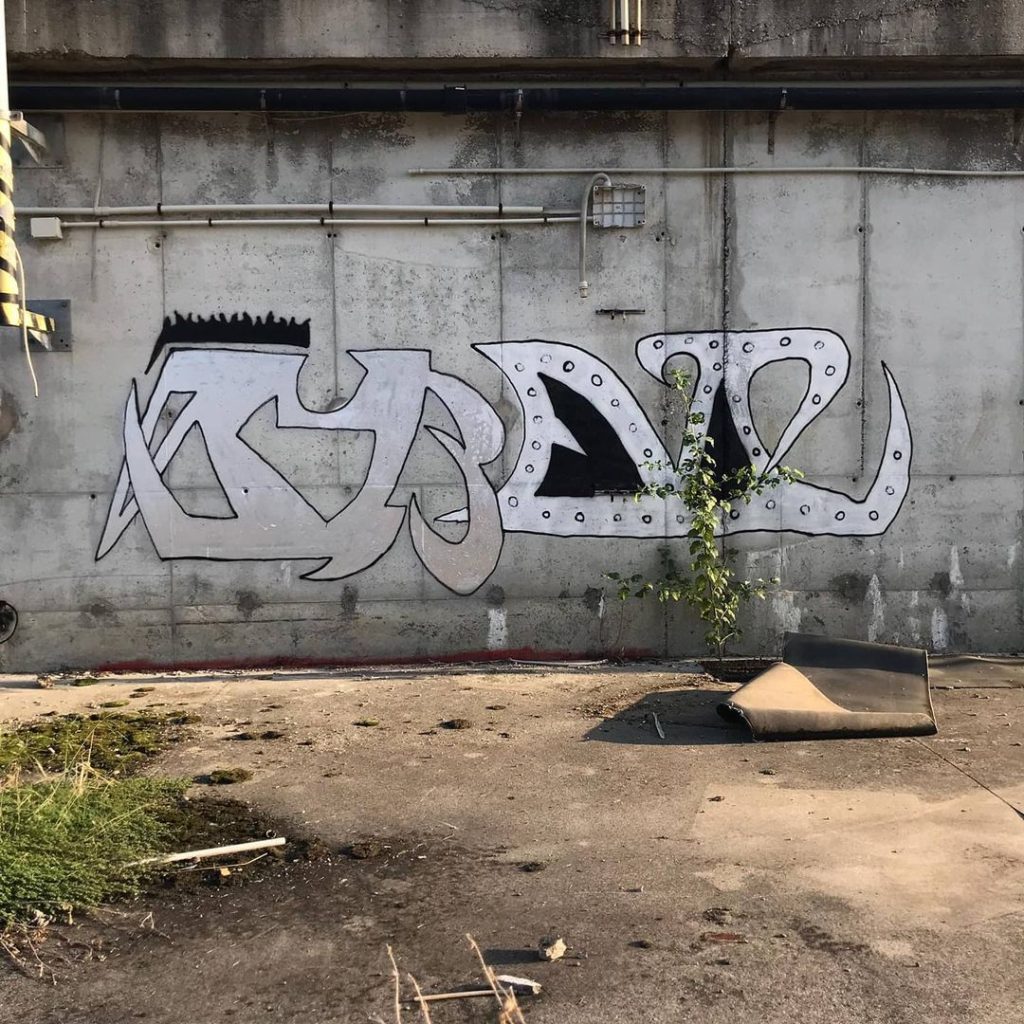 EDO:
My approach is always that of the game. Each element is a symbol with multiple meanings and multiple readings. Like a puzzle, joining them together, they can become a landscape, a story, an enlarged detail.
#
ÖÖÖ:
Speaking of 'symbol', have you ever being attracted with semiotics? Or you just prefer to purely place yourself in a pleasure of Shamanism-like trance? When you create a new symbol, what kind of state are you in to complete the process?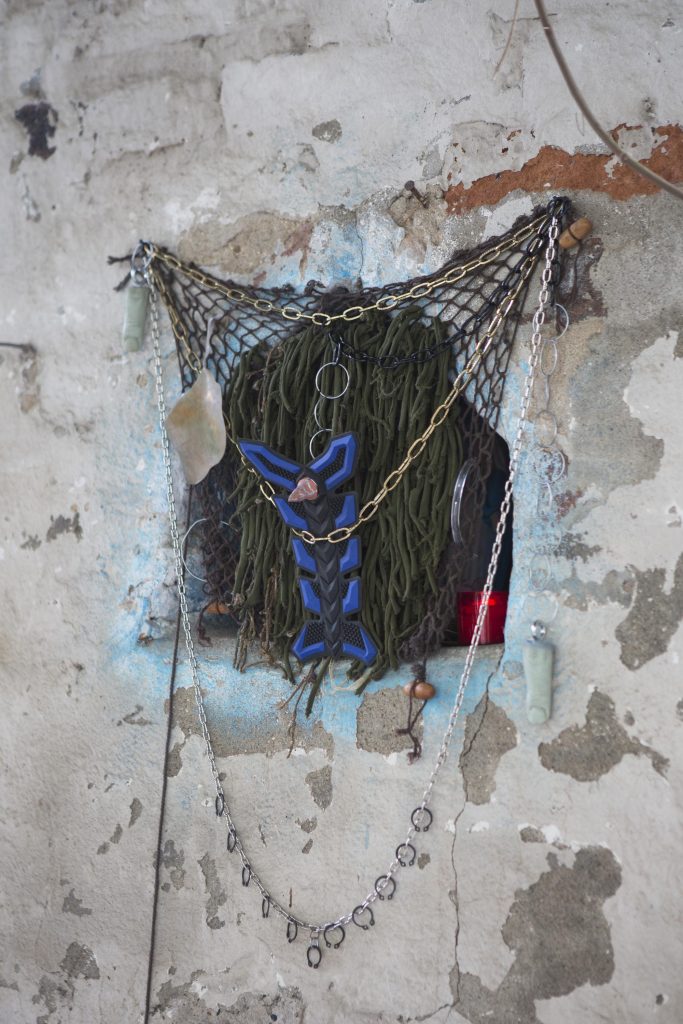 EDO:
A certain attention to the logic of meaning, to the context of the sign and to the processes of significations have always accompanied me. My journey begins with graffiti and graphics. Two practices that are certainly close together, which find an opening when they are applied to space, when they play with the environments, with the view, with the walk, when they become landscape. Think of the process in graffiti whereby graphics pervert, abstracting letters into studies of form. When I think of the symbols and shapes I work with, graffiti and graphics are definitely the joint bases, but it is the shape that has the upper hand. Then it is the relationship with space, or precisely between signs, that builds a logic, an immediacy. I generally find many stimuli in music or in nature. I often draw after a walk in the woods, preferably in the mountains.
#
ÖÖÖ:
'SAUZER' is one of your projects that you are working on. last May, I asked its introduction from you. Then I received the text below with a catalogue of 'SAUZER' :
"Sauzer was born in Lodi among the waters and fog of the river Adda and developed itself into what today could be defined as Lodi's tradition of Graffiti Folklore. Instinctive and brutal shapes, a strong link with the rural world and an attraction for invisibility are characteristics that brought Sauzer to have an alien standing towards the world's graffiti scene.
Sauzer is the name used to describe an entity, a vibration that only few can hear and even fewer can represent.
Sauzer is cold energy ancient like the universe, naturally synthesised in the fog that rises from the river and scatters over the fields, the concrete and the mud."
This is fantastic. Could you further explain the worldview that SAUZER is on the way to build? What concept does this project aims to achieve?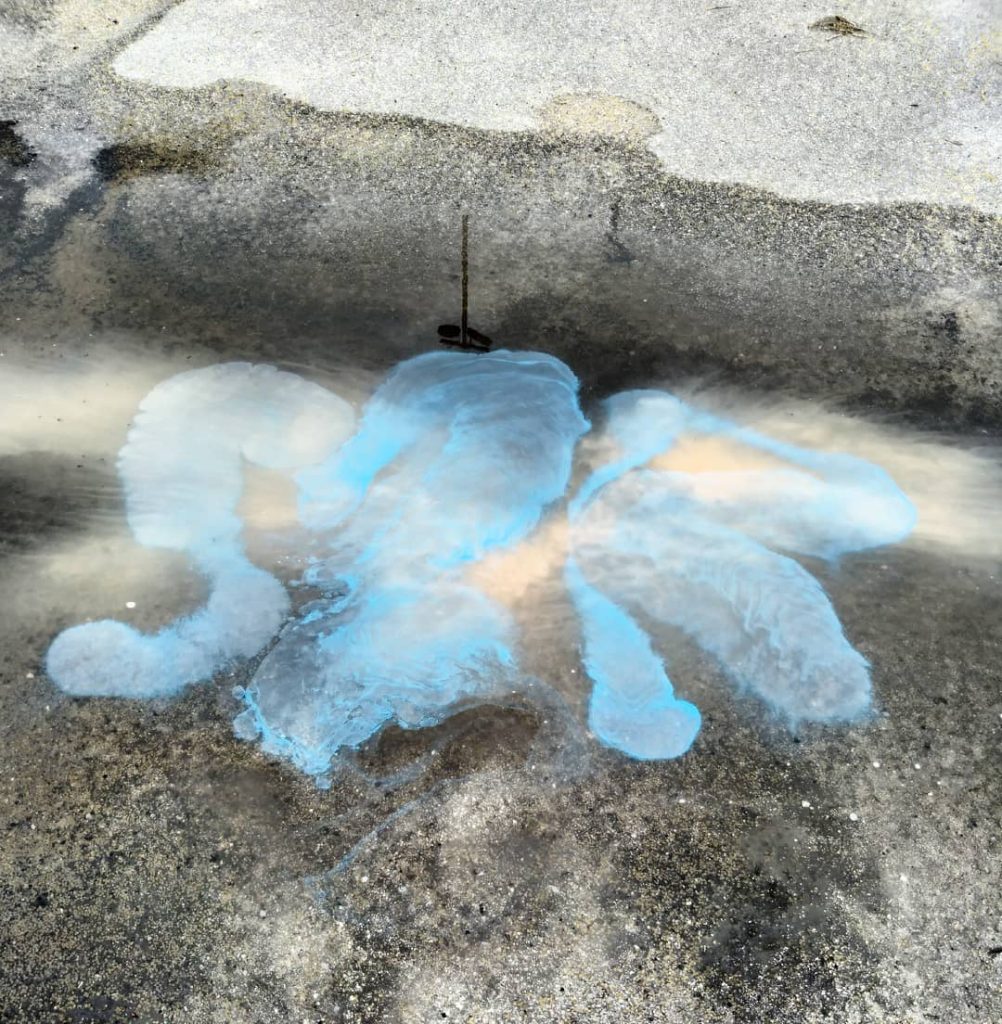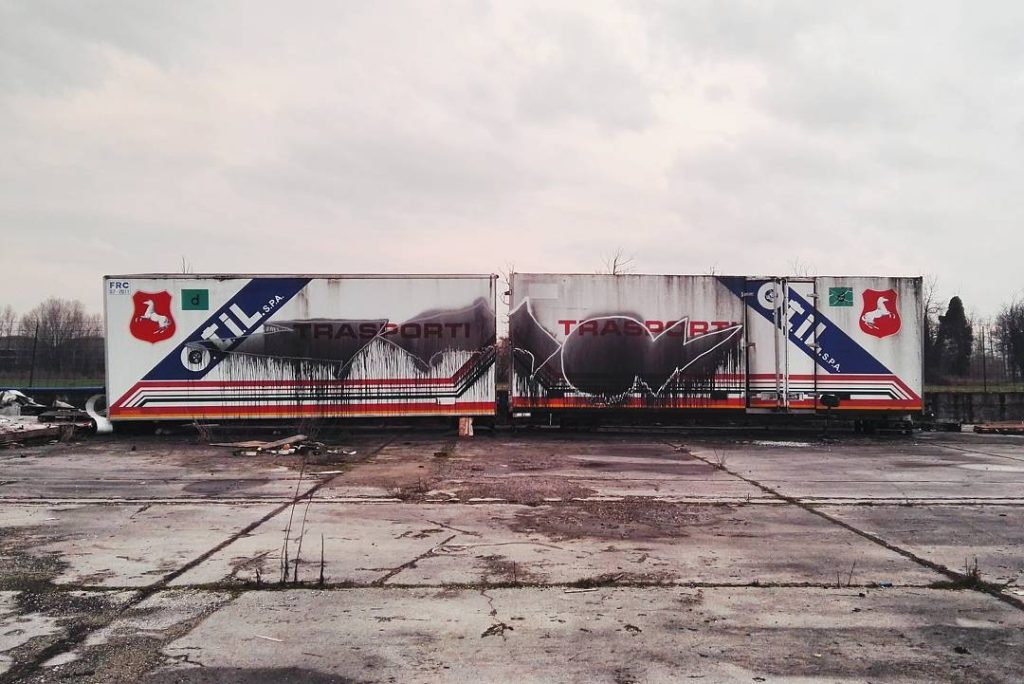 EDO:
Sauzer is a collective project that was born together with two other friends and artists (Roberto Alfano and Alberonero). It arises from a creative impulse without a precise direction that develops on different disciplines through ritualized actions. Sauzer tells himself in a spiritual way with references to modern subcultures, ancient traditions and territory. The intent behind the Sauzer project is to release and make tangible an energy that involves the public and that transports them in a state of mystical intoxication.
#
ÖÖÖ:
It appears to have been a short novel in Italian signed as 'Lodovico Pignatti Morano' in the catalogue of the 'SAUZER' show. What is the story about?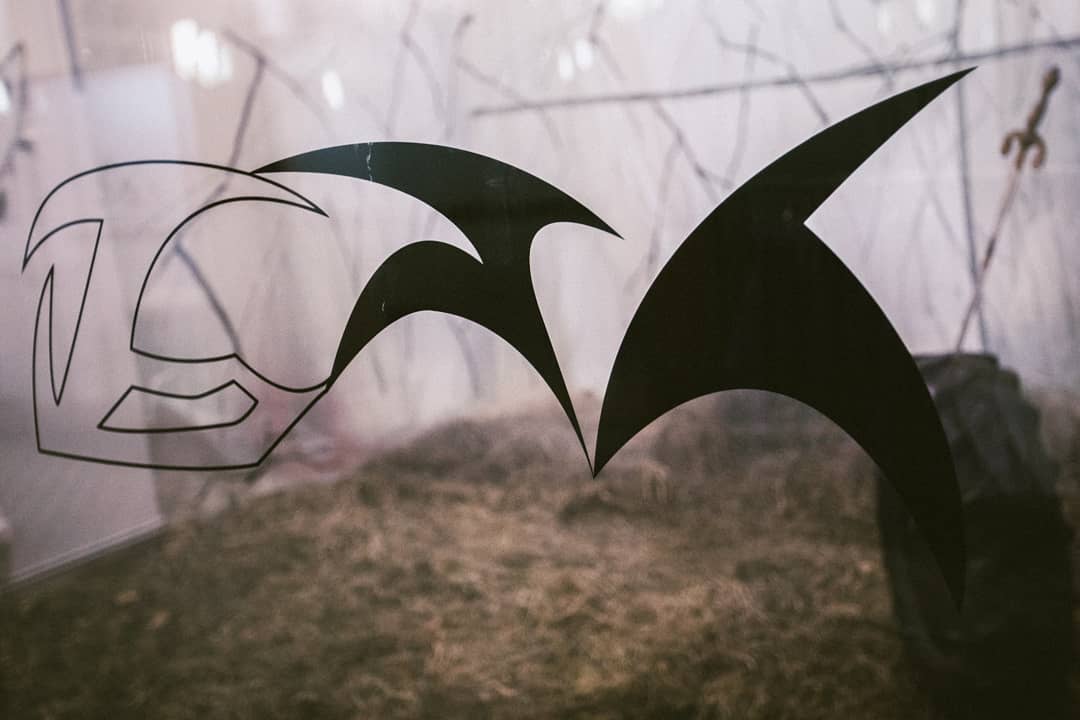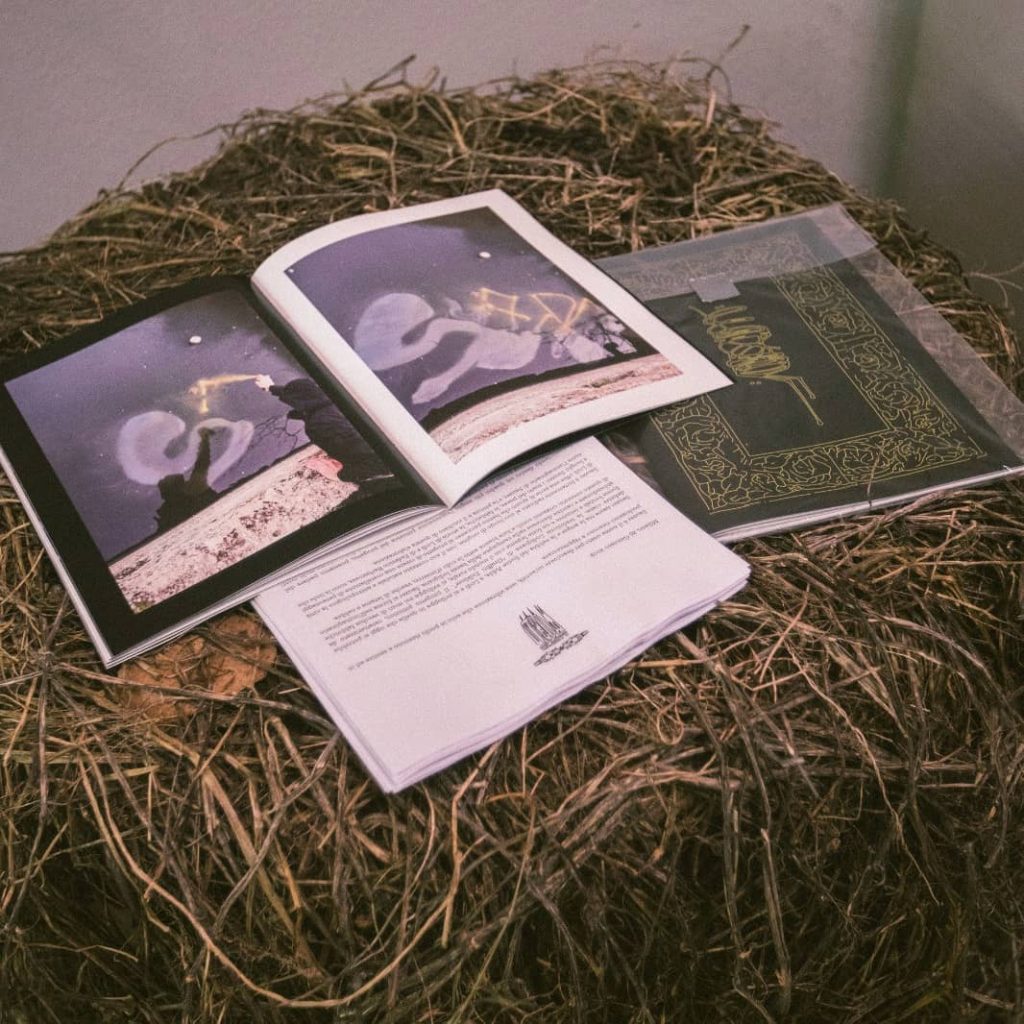 EDO:
The story was written by Lodovico Pignatti Morano and tells a personal and fictional vision of Sauzer. It is a short story of a lonely and melancholy man who meets Sauzer through the discovery of a leather mask.
#
ÖÖÖ:
The project 'SAUZER' seemed to embody musical creation as well, you released a track 'WE ARE THE ANGLES' on Soundcloud 1 year ago. And lately you mentioned you have been thinking about adding a sound dimension to your work. Can you share with us more about this idea? What does music mean to your art creation?
EDO:
My first approach to artistic production took place with music. When I was 14 I started playing guitar in various bands, mainly punk and post-hardcore. I've always listened to different genres and over time I started producing with Ableton . At the moment I'm trying to give coherence to the tracks I produce with the intention of using them to broaden the relationship between my work and the viewer, adding a sound and immersive element. Music never needs justifications, it is much more direct and immediate. This is the reason that pushes me to play.
#
ÖÖÖ:
You also mentioned that you deem rave is a contemporary ritual. How do you observe the 'Neo-tribalism' at our present era?
EDO:
I think rave is the contemporary transposition of rituals that have existed for centuries. For me it is important to create moments of collectivity, empathy and sharing. Feeling like a community that faces together the scourges of a new Middle Ages characterized by regressive policies of the new right, traditionalism and apocalyptic paranoia.
#
ÖÖÖ:
If we suppose there is an alternative to the dystopian scenario of the post-apocalyptic world
——a pure utopian theory:
Human kind are the outcomes of nature, science and technology are the outcomes of human being and thus also belong to nature. The mind states of entire human group are consistently evolving. Once in a future era when human mind are level up till the certain dimension, science and technology are potential to be more synchronized with nature's primitive wisdom.
As the result, the relationship between nature, human and technology will be harmony and fluid in the future world.
How do you perceive this conception?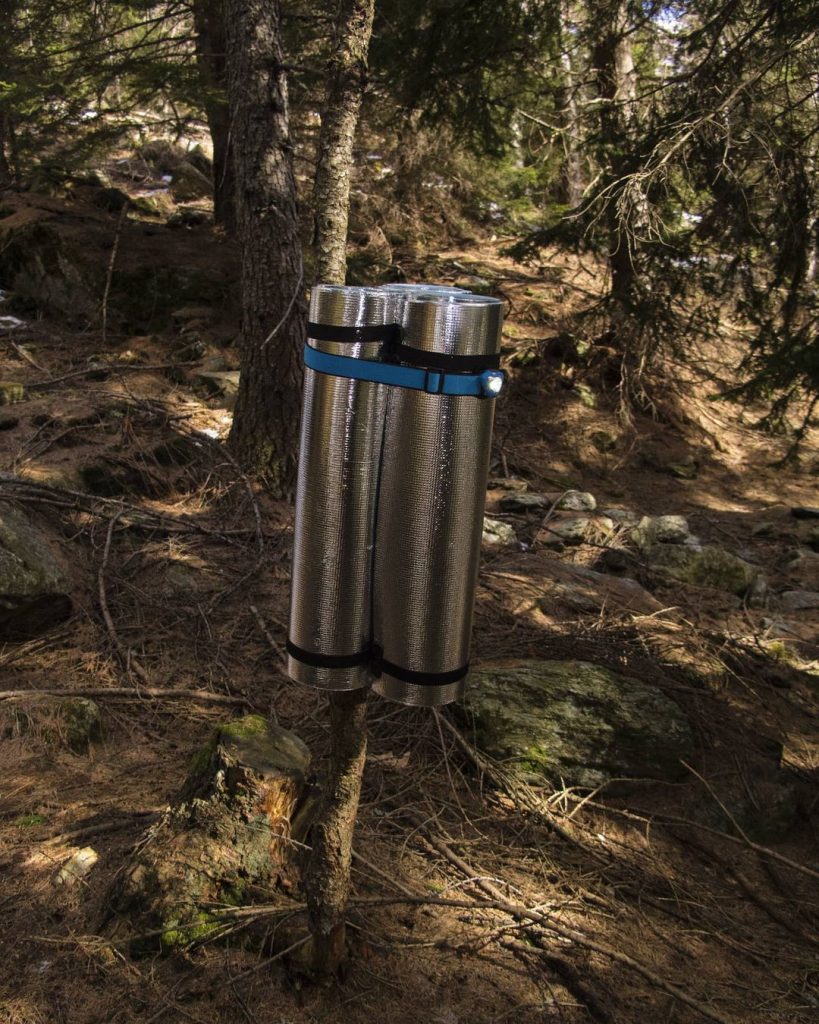 EDO:
Would be great! Just as I told you, this is the question of the scenario. Having the ability to imagine alternatives, other positions, and therefore other trajectories, starting a little from what is there and a little from pushing oneself to think what could be there. The post-apocalyptic scenario that is the background to my works is this, an attempt to redefine the relationship between man, nature and technology, not unlike your story. Sure, there are ways. One is starting from scratch, a reversal, to project yourself into new futures. Another is to wait and in the meantime try to provide ways through the imagination.
#
ÖÖÖ:
Have you ever noticed any integrations of Western and Eastern cultures? Or is there any oriental culture that has interest you?
What do you think of the 'creativity' in Asia today? Or could you please describe other scenes that you have observed from your perspective? Where would you like to go if you have the opportunity to visit Asia in the future?
EDO:
I have always had the myth of Tibet and Tibetan monks, a passion that was born from the stories and photographs my parents showed me after their trip when I was a child. In general I am fascinated by oriental cultures especially Chinese, Japanese and Mongolian. Any creative thought is automatically influenced by the culture to which it belongs. Having different cultures, "creativity" in Asia is certainly interesting from my point of view. I would like to visit China, metropolises especially attract me. I would like to find out which subcultures are born today in large Asian cities. Japan is also a destination that attracts me.
#
ÖÖÖ:
Have you recently specialized on any interesting subjects? Could be anything.
EDO:
Lately I have devoted a lot to music.
#
ÖÖÖ:
At the end of the interview, we would be really appreciated if you can share us some music that you like.
Thank you so much for taking time to have this conversation with us.
EDO:
Sure, I'll list some music I've been listening to lately and some classics:
Coil – The Apes of Naples
Mac-Talla Nan Creag – The Sorrow of Derdriu
RAMZi – Phobiza Vol. 3: Amor Fati
Amnesia Scanner – Another Life
Aisha Devi – DNA Feelings
SALEM – Fires in Heaven
Golden Bug – Cosmic Trigger
Voices From The Lake – Live at MAXXI
Dino Sabatini – Shaman's Paths
Hosting – Obit for Sunshade
Crossing Avenue – Carmaleonte
The Age Of Love (Jam & Spoon Watch Out For Stella Mix)
Front De Cadeaux – The Ketamine
Steve Pepe – Modern Dance
Lucio Battisti – Returning From the Countryside
Lanark Artefax
Donato Dozzy
The Body
Gabber Modus Operandi
Gabber Elegnaza
Yung Lean
Muslimgauze
Huun-Huur-Tu